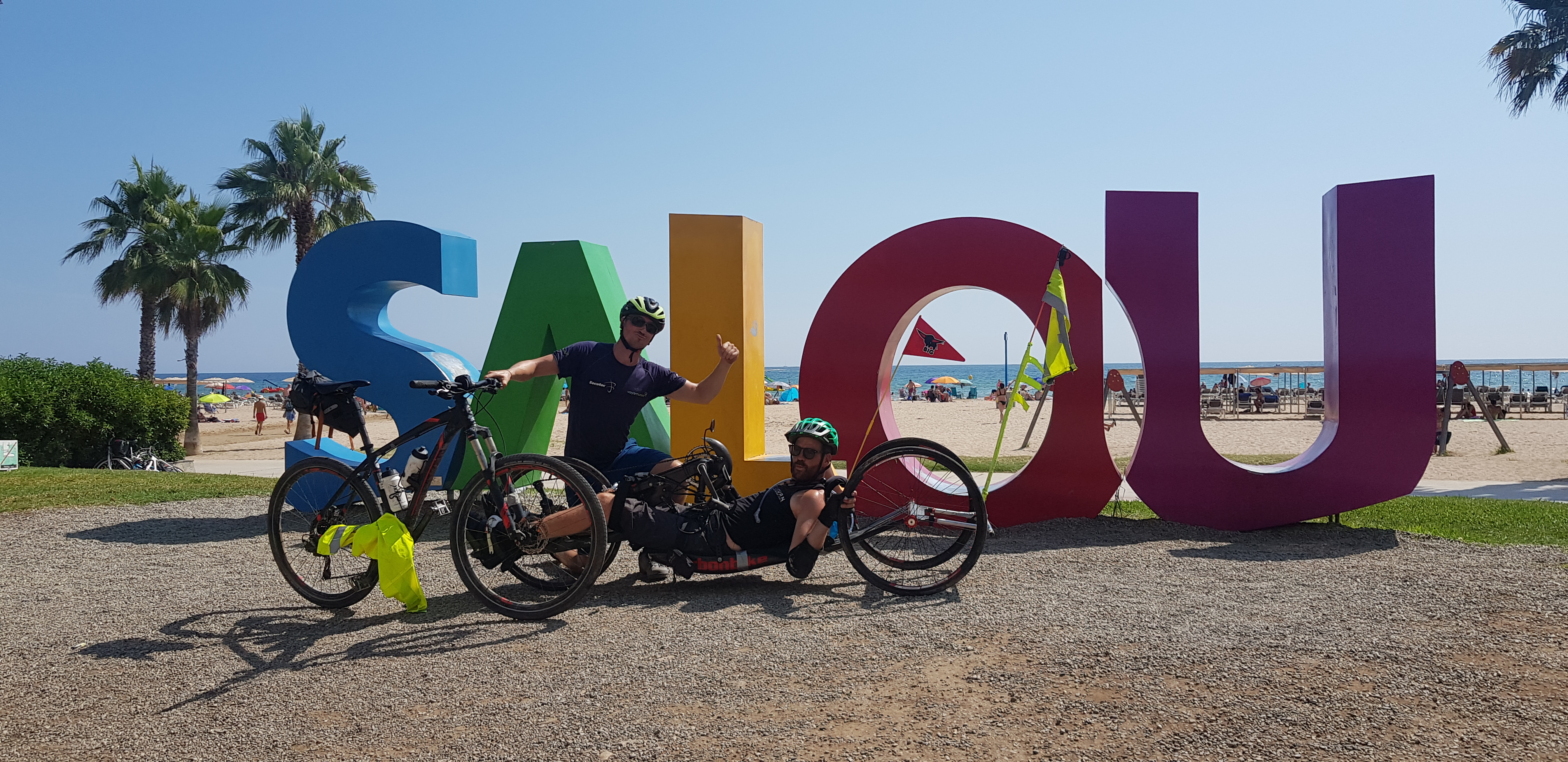 Coastin 'n cruising
September 8, 2019
After leaving Carcassonne I feel that it has been a while that I've been hand biking. A couple hours later I get used of it again. The first stop is Perpignan to get a well deserved rest after a full day of cycling. The day after we set off towards Spain, the 3rd country of my journey to Kilimanjaro.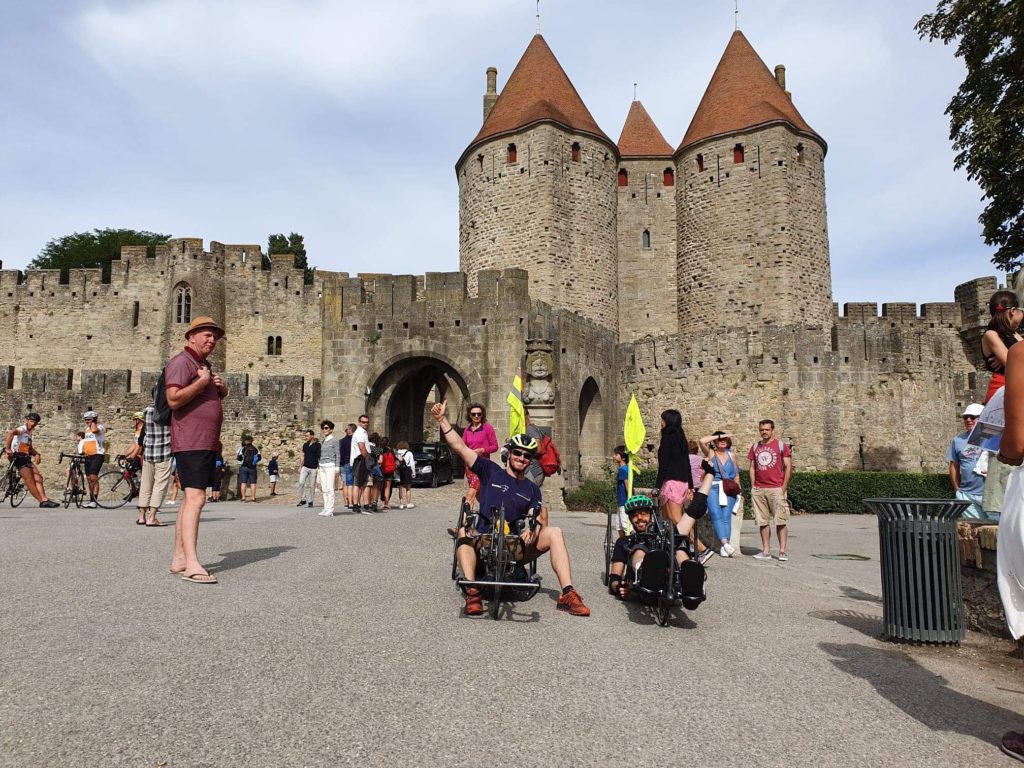 Into the Pyrenees
We avoid the biggest climbs in the Pyrenees and follow the Mediterranean sea as close as possible because hand biking is a total different game than cycling. Only using the arms is a great exercise but when it gets too steep your front wheel begins to spin. The wheelbase is very long as well, taking narrow streets or corners is not an easy task.
The route takes us to Girona, a beautiful city in Spain near the border with France. There we say goodbye to Tine, the first voluntair that goes back home. With Frank having a muscular disease and being in a wheelchair the volunteers are a very welcome help. Every week 2 new volunteers come by and will drive the van and help us with different tasks. The van is adapted to Frank's needs and he sleeps in it. The others sleep in tents or sometimes we sleep at people's houses. Some friends (thank you Anparo and Monica) arranged stays here with locals and I got to meet Alex, a friend I haven't seen in 8 years.
The long way south
We average 60 km a day on a handbike and being very low to the ground we are concerned about our safety. We choose to take the more quiet roads but this only slows us more down. Every day we have to plan carefully which roads to take. Still, after week 2 we are ahead of our schedule. One of the concerns here in Spain is crossing the big cities. Surprisingly this has been very easy. Having crossed Barcelona and Valencia already this were very easy cities to cross with almost everywhere bicycle lanes.
Holiday Mekka
Following the Mediterranean coast isn't always fun, although we have the sea and the beach every day. Many times we can only choose one main road, luckily it has kind of a "cycling lane". Still it is crazy to see cars passing by at 90km an hour from a handbike which is almost the same as laying on the ground. That's why I decided to get on my bicycle on routes that are too crowded. There are many tourists here and the only connection between cities are busy roads. While cycling I can more easily take care of our safety as I'm more agile and visible than on a handbike. Yesterday we reached Benidorm through a busy road from Calpe. Here we take a restday, the new volunteers will arrive and we'll set off to Almeria with more uphill cycling.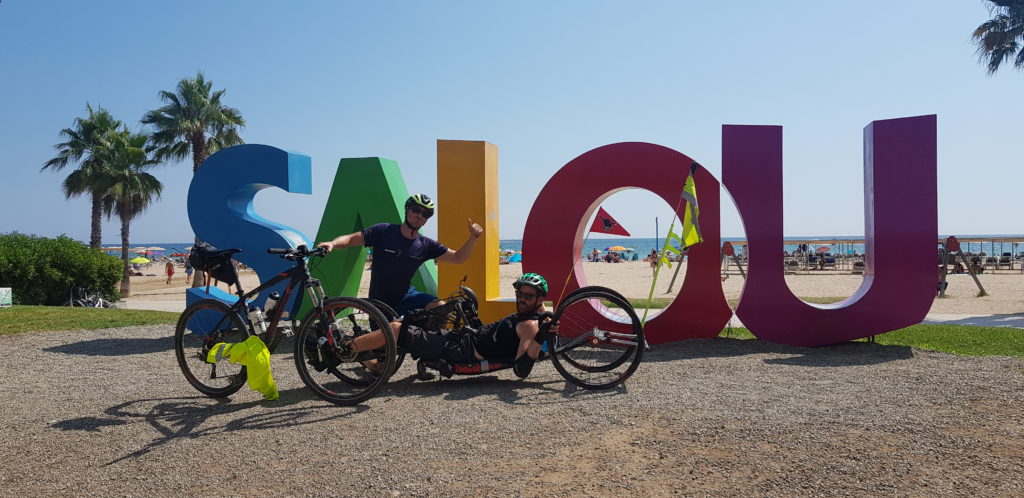 Thanks to all the sponsors who make this human powered 7 summits possible!