Europe
On the 13th of July 2013 I left Belgium with my bicycle, climbing and camping gear for a crazy project. My goal was to cycle to Nepal and en route go to and climb Mt Elbrus. At 5642m it is Europe's highest peak.
The doubting phase
When I graduated as a physiotherapist I had 2 options: go for a Phd. in Qatar or work in Nepal. My friend Tenzing David Sherpa was going back to his family in Kathmandu after graduating. He wanted to start a Physio practice there. I was invited to join him and got the idea to cycle there. At university I didn't have lot's of money and cycling always gave me the freedom of travel on a tight budget. Since I already had some experience of cycling bigger distances I thought of doing the same.
Many friends and family told me I should go to Qatar, to earn a lot of money and then I can do what I want. On the other hand there was my oldest brother who saw it more simple: "you can work in Qatar, earn a lot of money and do what you want, or you can do what you want right now". That was a very clear point of view and after some months of working, saving money and preparing I was ready to leave Belgium with everything I owned at that moment in my life: a bike, clothes and climbing gear…
The grand départ
Waving my close friends and family goodbye I started cycling from Belgium to the Netherlands (Maastricht). It felt great to be on the road again, only this time I didn't know when I would be coming back. What I knew was my first major goal was to cycle to Mt. Elbrus. I had heard from this mountain before and was able to join a group one day. Only I didn't have the money to fly or pay for a guided group so I had to abandon those plans. Only when planning my route I saw that by making a 700 km detour I could pass by this mountain and climb it on my own! Previously I had heard of the 7 summits. I already had a rough idea on how to do them and human powered. While cycling you have time to think, a lot. In my own imagination I started to explore all the options and came to the conclusion of cycling to these mountains, then rowing of kayaking whenever there was water…
Beginning rush
The first week I'm going fast. My brother joins me for a couple of days and I reach Berlin where I take some rest days while visiting a friend. After that I head off to Poland where the bush camping starts. In Germany there are many opportunities to camp in campings, but in Poland I mainly try to find a great hidden spot to pitch the tent. I get invited as well by many people I meet on the road.
Administration hassles
Closer to the border with Ukraine I need to find a hotel. To enter Ukraine I need my pasport and it was still at the Russian embassy. It took me more than 2 months to get my visa, mainly because I was too honest about my plans. The regions I would be cycling through aren't very safe and they want a very detailed itinerary with all confirmed (officially stamped) hotel bookings. There is no visa agent who wants to help because they don't want to be responsible for me. It was a bit of a wild guess to leave but after all it worked out well. My sister went to pick up my pasport and sent it to a hotel in a border town. Very lucky and happy and I can enter Ukraine (which I need my passport for but not a visa as a EU citizen).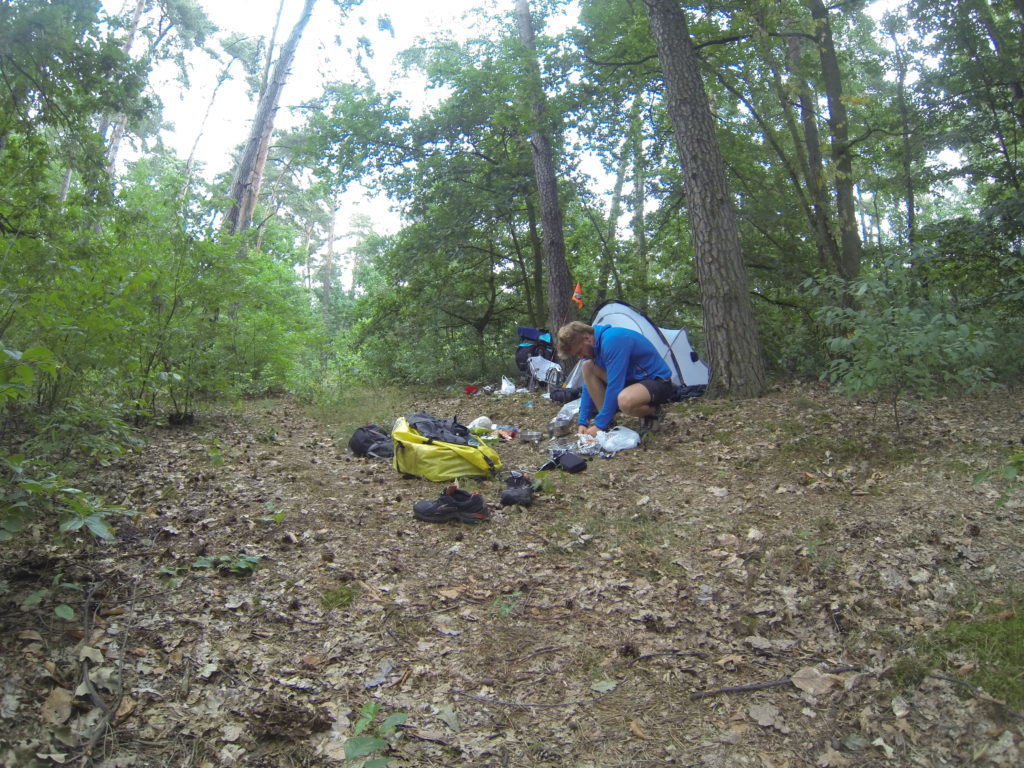 Soccer roads
Because of the 2012 European football championship, hosted in both Poland and Ukraine they had completely renovated one of the roads. A beautiful road with lots of space to cycle and gave me great progress. It didn't take long before I took a break in Kiev with Sabine, a Belgian friend who helped me a lot during the preparations and on the road. There I tried to eat as much as possible because I knew things would be a bit more difficult more on the eastern side of Kiev. Especially the roads were pretty bad from then on since there was no interest to renovate them as there was no soccer championship on that side.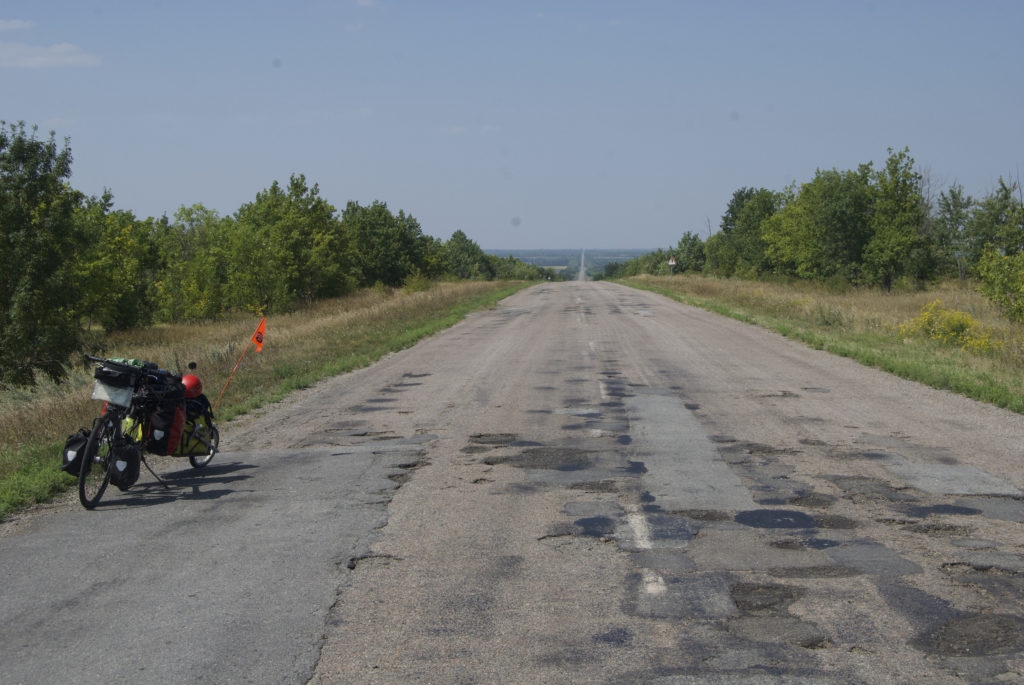 The first corruption
I was still in great moods and it was very fun meeting up with friends along the way. Even at the border with Russia another friend came to Rostov-on-Don to visit. Just before entering Russia I was stopped by corrupt police. They clearly wanted money and tried to intimidate me and give them some dollars or euros. I played along and kept being naive and open. Just relax I thought, all my documents were good so I thought they couldn't do anything to me.
He continues to try to intimidate me by walking around me and waving his stick. I explain my story and my purpose, that I'm collecting money for a home for street children,…. After a while he asks me if I have Russian rouble. I try to explain that I will go to the atm to get some cash across the border. Then he takes out a big pile of cash and offers me a 500 rouble note. I get scared and don't know what to do until I see his colleague nod to me. When I accept the money he tells me I can go and everything is allright…
Rushia
When entering Russia I had one month (the maximum tourist visa duration) to cycle to Elbrus, climb it and then continue to the border of Kazakhstan. Because I still had to apply for my Kazakh visa in Astrakhan I only had 3 weeks to cross the country. A bit of calculation brought me to the result that I had to cycle 165km (100 miles) every day, climb Elbrus in 4 days and immediately continue on the same daily average: challenge accepted!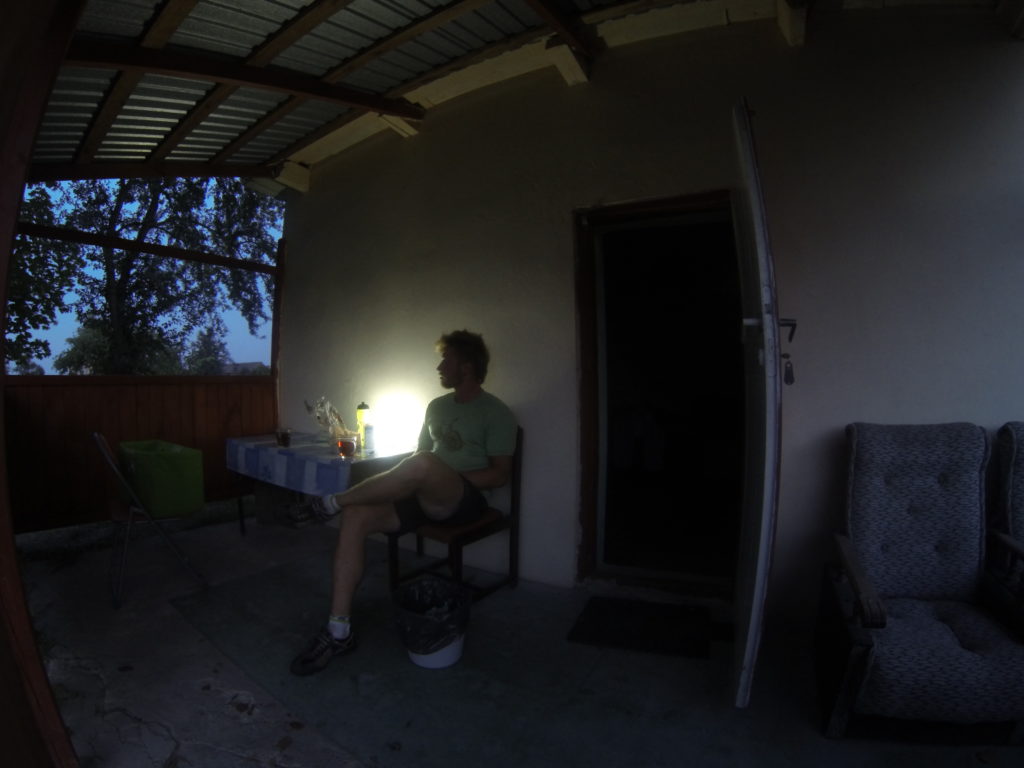 While I was cycling to the mountain I met extremely friendly people, I really love Russia. People here only say what's necessary but you know you can count on them. They are very direct, but very helpful. One time I'm taking a break at at gas station where I bought something to drink. A guy comes to me and asks "do you have money?". I just answer that I have some, without getting into detail. Then he gives me money, tells me to buy some drinks and food and goes away immediately. Things like that didn't only happen once.
Rebels
On the other hand people warned me a lot not to camp anywhere in that area. Just recently 2 hunters where killed in their tents by rebels. That gave me a hard time, because the distances between possible safe places where just too big. I had to camp in the bushes and got scared every time some animal was passed by. Hoping it's just a rabbit I could sleep from time to time.
This was a very intense period with lack of sleep and pushing myself physically every day. Yet one day I meet some Chechens surrounding me, asking all kinds of questions. I keep calm and they seem to respect my story. After a couple of minutes they give me lots of food and drinks, a telephone number of the biggest guy. They tell me that if any problem in that area I should call them, they will help me.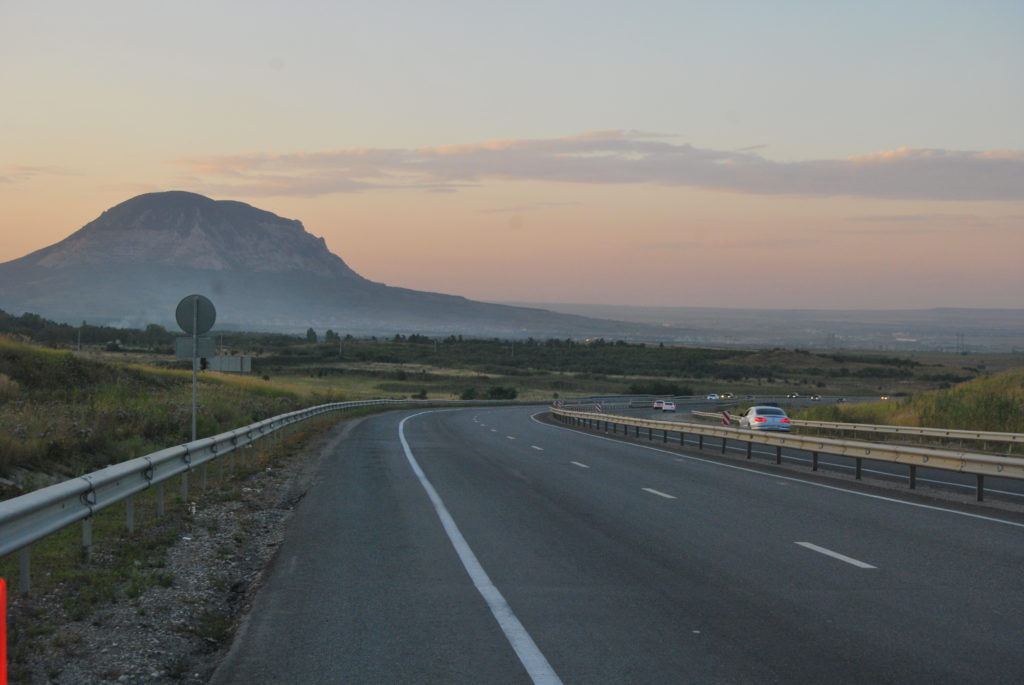 All very comforting and I feel good cycling in beautiful Russia. What worries me more are the tanks and military checkpoints, mostly meaning there is something wrong in the area. Overall I didn't ever had the feeling something was about to go wrong. After 6 weeks and 3800km of cycling I reach the valley up to Terskol. The last climb takes me up to 2100m. There ends my cycling trip to the base of the highest mountain of Europe. At night I finally arrive where I find a hotel. I park my bike take a good night sleep and start climbing up the next day. To read more about my climb click here
Very thankful to my sponsors who support me to get this project done!