Projects
As part of this project I try to visit individuals, organisations or businesses trying to create a better world for everybody. For these projects I'm raising funds to help them support their goals. I do this mainly by giving presentations for companies or groups, in return they transfer money to the selected organisation (so I don't collect this money). This is very transparent and with the help of my sponsors they get some extra resources. If you as an individual, organisation or company would like to hear my inspiring life's story, don't hesitate to contact me (veyt.jelle@gmail.com or on social media). We can set up a charity night and give these beautiful projects a chance to reach their dreams!
Shangrila Home vzw is a home for streetchildren in Kathmandu Nepal. It is founded in 1995 and developed by 2 Belgians : Inge Bracke and Paul Jacobs. Inge lived in Nepal and began by trying to feed the street children of Kathmandu but this was never going to be enough. These children had to sleep in deplorable conditions in the streets of Kathmandu. She started looking for a safe, sheltered place for them to live. This was the beginning of SHANGRILA HOME for street children.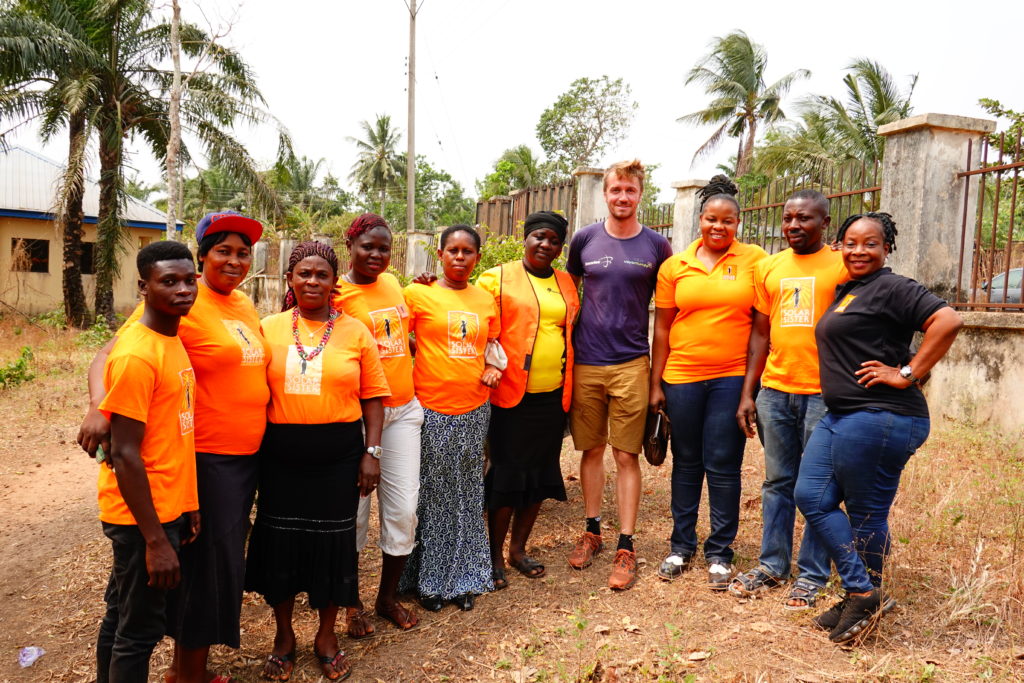 Solar Sister believes women are a key part of the solution to the clean energy challenge. This is why we invest in women's enterprise in off-grid communities. We see the opportunity to empower women and to reach those who aren't reached by business-as-usual energy models. Centering local women in a rapidly growing clean energy sector is essential to eradicating poverty and achieving sustainable solutions to climate change and a host of development issues.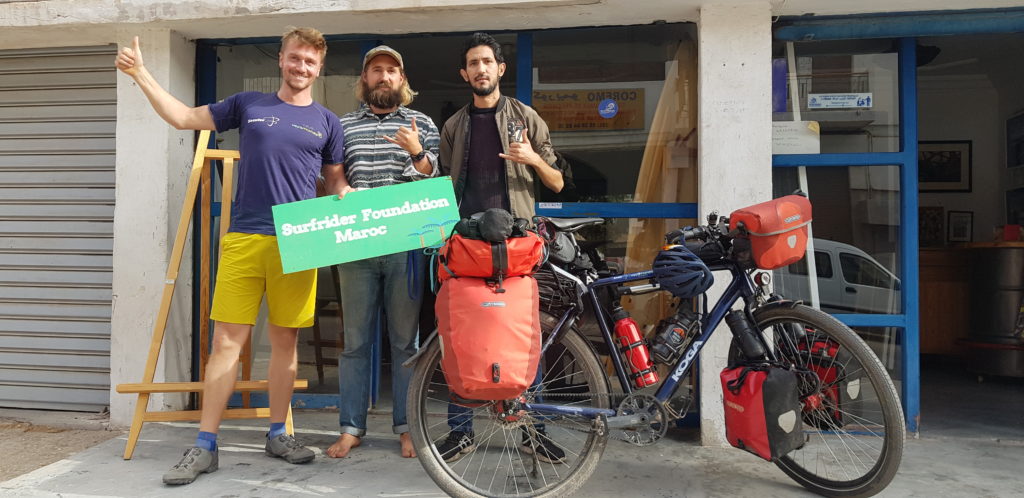 In Rabat (Morocco) I visited the Surfrider Maroc foundation. An organisation that tries to educate, inform and clean up the area from pollution. It is a small team of great people who are working hard to make people aware of this problem. They are going to schools and companies to explain about the situation and how they can help. By organising beach clean ups in the area and making art with the found trash they keep the beaches clean. To find out more about their project and goals please visit http://www.surfridermaroc.com/ you can easily make a donation through their website!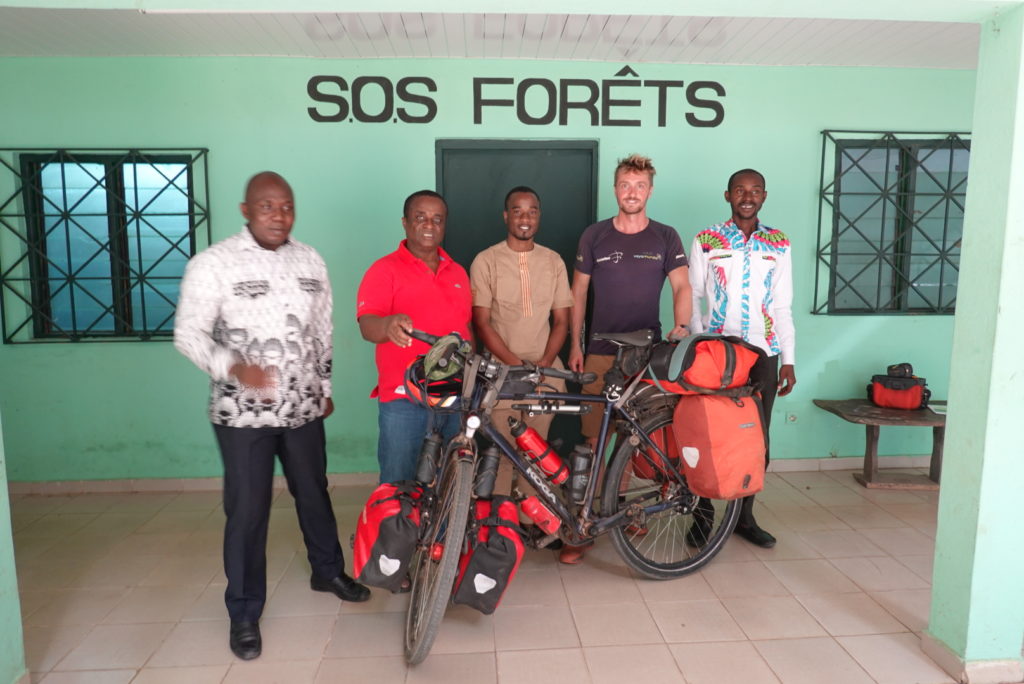 SOS Forêts. As in many countries I see the same happening here in Ivory Coast: deforestation. Lot's of forest and wildlife is disappearing and SOS forêts is a local NGO trying to slow down and reverse this. In Abidjan (at the botanical garden of the university) I went to meet the president and other workers in the ngo. This project is already running since 1996. In 1992 Dr. Wadja Agnankou received the Goldman prize for his work to protect the mangroves in West Africa.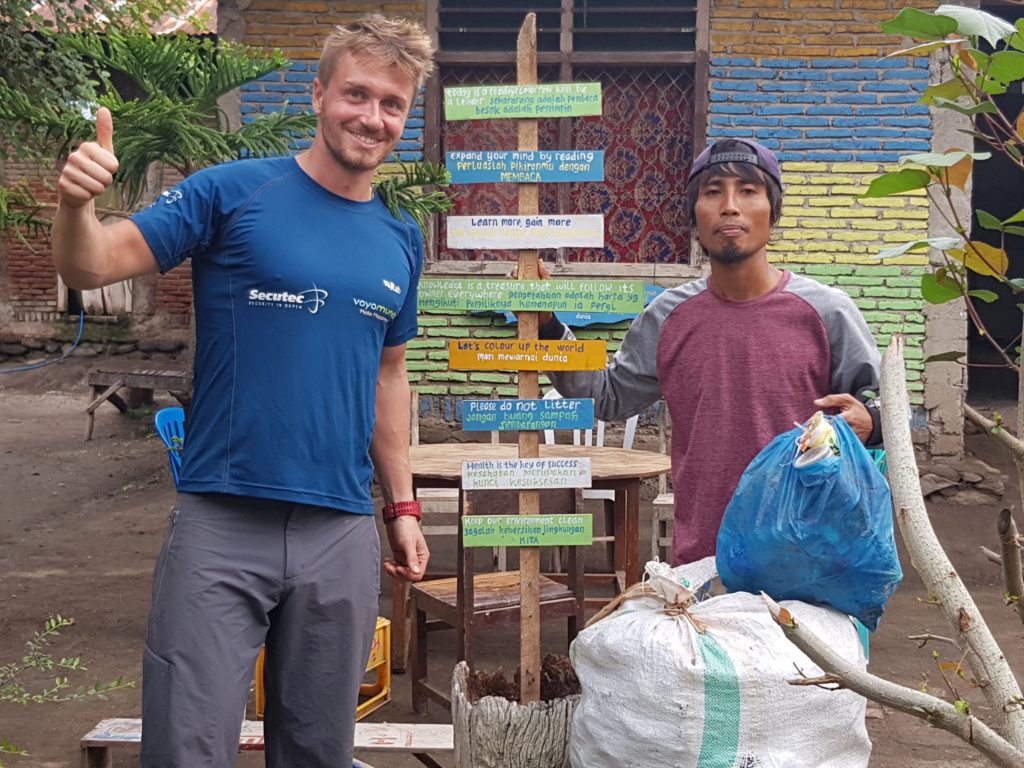 During my 6 month rowing expedition I met Wahyu Di Udin on the Island Sumbawa. He is an Indonesian English teacher and environmental activist which we had an immediate connection with. We only stayed one night in his village but he clearly left a great impression about his work. He is volunteering to teach English in his village, the only fee he's asking is to help keep their beach clean. By doing this he creates awareness in his village and surroundings about pollution and how to deal with it.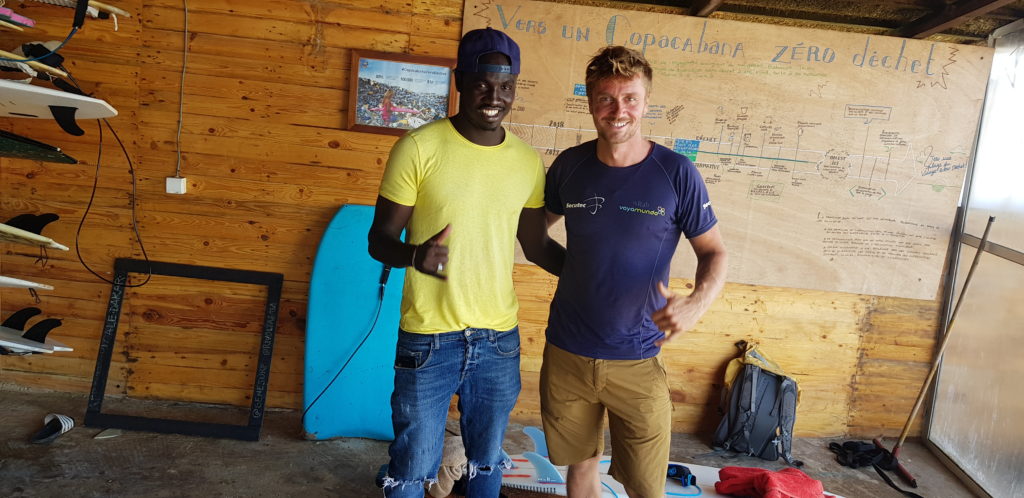 Senesurf. As part of this project I try to visit individuals, organisations or businesses trying to create a better world for everybody. In Dakar I visited a local restaurant/bar/ organisation that is trying to keep the beaches clean. They are the only ones in the area trying to actively do that. The restaurant is a pioneer in Dakar because it's the only waste free project in Dakar. The garbage that they find, or gets in is getting recycled. One of the issues in Dakar is that they don't get lot's of support from the local government.