Mount Everest
In April 2014 I had cycled 13.464km from Belgium to Phaplu, a huge trip that took me about 6 months. In Phaplu I left my bike and started the beautiful 14 day trek to Everest Base Camp (EBC). This climb didn't go as planned. The first year 16 sherpas sadly died in the Ice fall because of serac (big block of ice) fall (RIP). In 2015 the earthquake happened killing 19 people in EBC and more than 9000 people (RIP) died in Nepal. The 3rd year of climbing all went fine. I cycled and summited Mount Everest on the 13th of May 2016. Every time I was part of the Asian Trekking eco Everest expedition. They are like family and gave me the best chances of reaching the summit. Read the whole story of my expeditions below.
The beauty of the Himalayas
The bicycle journey from Kathmandu to Phaplu was amazing but very hard. Once there I left the bike at a friendly hotel and started the trek to EBC. The first days are not on the main trekking route. Most people fly in from Lukla, the route I took joins that after a couple of days. Every time I took this route it gave me the chance of being alone and prepare mentally for the upcoming climb. It is a challenging track because of the constant up and downhill.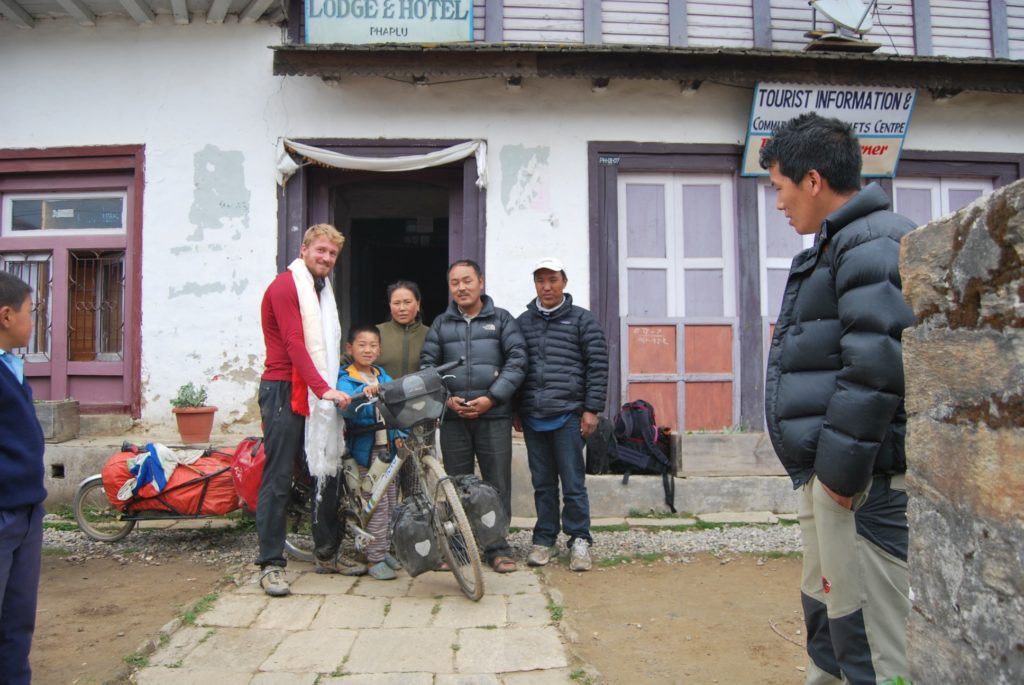 Once past Lukla I ended up on the same tracks as the ones everybody takes to EBC. It seems like a busy route but in my experience it is an amazing and beautiful journey to the highest mountain in the world. It never felt like being too crowded on these trails. From Lukla we went to Namche bazar, a magical village with great facilities and perfect place for an acclimatisation day. The usual trek takes about another 7 days from Lukla, it is important to acclimatise well.
Disasters
Serac fall
On the 18th of April 2014, in the early stage of the climbing season, 16 sherpas got hit by a serac. They all lost their lives and the mountain was closed following this disaster. Thoughts and prayers go to the sherpas and families affected.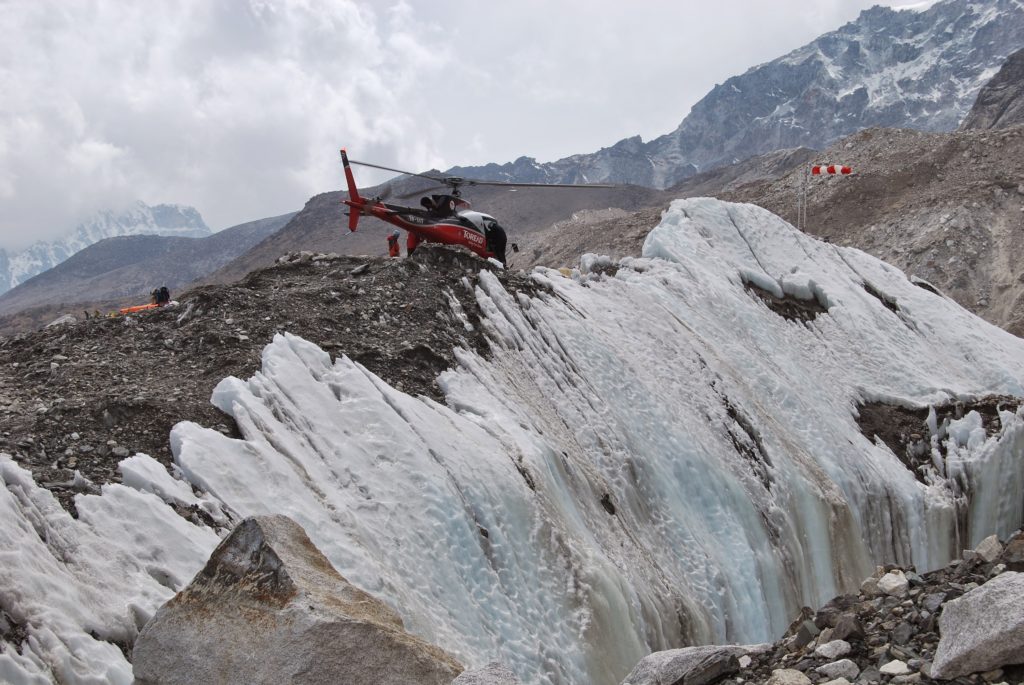 Earthquake
On the 25th of April 2015 an earthquake happened in Nepal claiming the lives of more than 9000 people. I just arrived in EBC after an acclimatisation climb to camp 2 when the earth began to shake. First, I didn't worry too much. There were no buildings around and so nothing could collapse over my head. It was a bit scary because the earth was shaking pretty hard. Then suddenly someone warns me for an upcoming danger behind me. I turn around and I see a huge (more than 100m tall) cloud of snow coming straight at me. The only thing I could do was to run. I ran down towards our tents and tried to find shelter behind a rock althar. Then everything turns white. I can't breathe and use my scarf to cover my face and to prevent inhaling too much snow. I crawl towards my tent and find the others there.
The avalanche created a powerful impulse that blasted through EBC. There is a big buffer zone with all surrounding mountains to prevent any avalanche to hit. But this earthquake created such big avalanche that this wasn't sufficient. It was more the impact that literally blew people and tents away. Those people didn't die from suffocation but more likely from head or other injuries. The first thing we did after this was trying to find survivors. Almost 100 people were injured and 19 sadly lost their lives. A very tragic incident which took time for me to get over mentally. Still, a couple of months later I decided to get back to Everest. I felt that I never got to test myself and didn't got a decent chance to try.
The summit
In 2016 I went back to Nepal and go for another expedition. All the years before it was a huge disappointment that I didn't get to climb. Yet I transformed that to a new opportunity and prepared even better each time.
My acclimatisation was more intense because I was in the mountains a couple of weeks before the real expedition. I stayed at the Eco lodge (4800m) in Gokyo and trained there by trail-running and hiking to acclimatise. Once in EBC it was great to see my old friends back, but a very sad moment to come back to this place as well.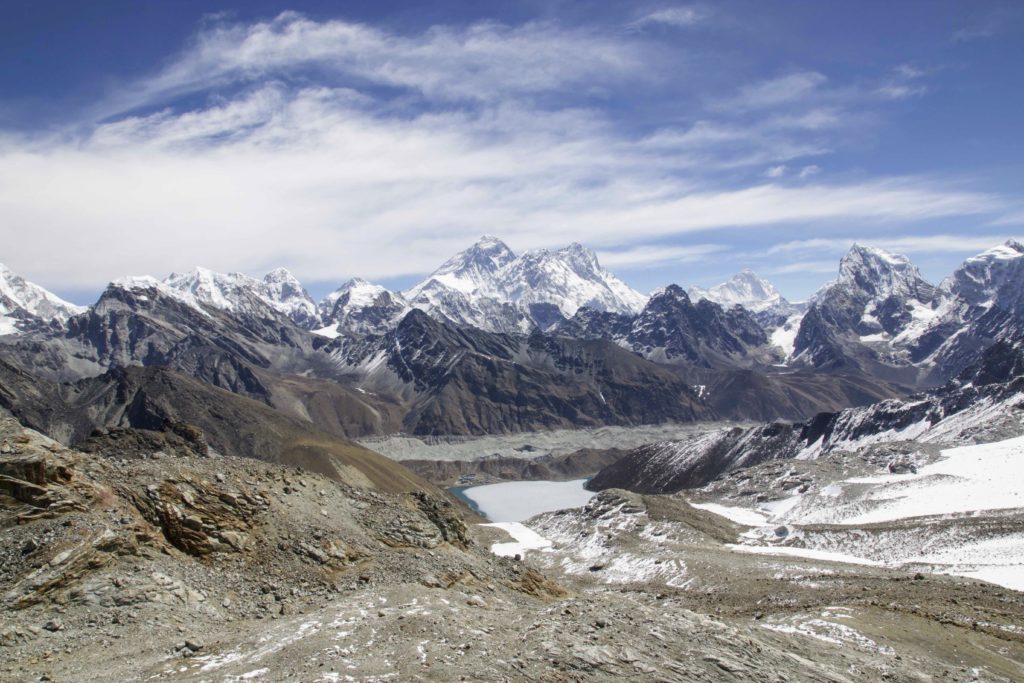 Acclimatisation
To climb Everest you need to acclimatise properly first. This means that from base camp at 5300m you go up to different camps: C1 at 6000m, C2 at 6400m , C3 at 7300m and C4 at 8000m. Most common is to do 3 acclimatisation rotations. This means you go to C1 and back. After a couple of days rest in EBC you go back to C1, sleep there and head up to C2. Then you go back to EBC and rest again. The 3rd and mostly final rotation you head up to C2, sleep there and head to C3 and head back to C2 and EBC. Then you should be acclimatised decently to head for the summit so you rest and wait at EBC for the perfect weather window.
My acclimatisation was similar but I stayed in some camps a bit longer. Mostly I climbed alone or with a friend, but I didn't have a personal sherpa who carried my equipment. This doesn't mean I had no help, but I wanted to do things for myself and I didn't have the money to pay one.
Summit
After my acclimatisation we got a weather window to go up. The weather was a bit doubtful but it would be possible. The great advantage was that most teams didn't want to risk that and there would be less people on the mountain. Tahar, Jules, Isaiah, their respective sherpas and me left early in the morning to camp 2. The whole climb went great and easily we reached our goal. The next day we left for camp 3 and after a couple of hours we arrive there safely as well. Things go great and the view is amazing there. This camp is at the Lhotse face which is a steep wall overviewing the western Cwn. During these times we take our own pace and when we get to the camps it's time to melt snow for water and food. Then we relax and try to sleep.
After a peaceful night at camp 3 we climb up to camp 4 at 8000m where I help to pitch some tents. I'm feeling great and arrive before the others. It takes ours to melt snow and we just chill in our tent and try to eat. That still goes pretty well so I feel strong. Yet I'm excited and concerned about what to come. At this altitude, anything that goes wrong can be catastrophic. When the night comes the wind picks up very bad. We were bound to leave at 11 pm for the summit push but had to delay that and wait it out. Still a couple of hours later we decide to leave and hope that the higher winds are mainly at the col.
The whole summit push the winds remain pretty hard and we are forced to break trail. A hard task taking lots of energy. Progress is going good but at the South summit we take some rest. There we discover something's wrong with Tahar's oxygen system we agree that his Sherpa will go down with the system and changes his with Tahar's. This way he opens the summit for him and just with us 2 we reach the summit of Everest. Jules is waiting there with his Sherpa and then heads down. Tahar and I celebrate briefly on the summit, take some pictures and head down.
Going down
The whole descent we take extra care about our safety. Most of the accidents on mountains happen during the descent. Yet we manage to arrive in C4 pretty early where we decide to melt some snow for water, pack our stuff and head down the same day to C2. At 6400m there is a lot more oxygen compared to C4 making it a much safer and comfortable option to sleep. After about 30 hours of climbing we arrive in C2, completely exhausted but fulfilled. Still we get up early to cover the last big obstacle before being completely safe in base camp: the ice fall. This is one of the most dangerous sections of the route, it's a constant moving part of the mountain with huge blocks of ice that can fall at any moment. We already passed this section many times so we come out pretty easy and celebrate our safety in basecamp with some beers.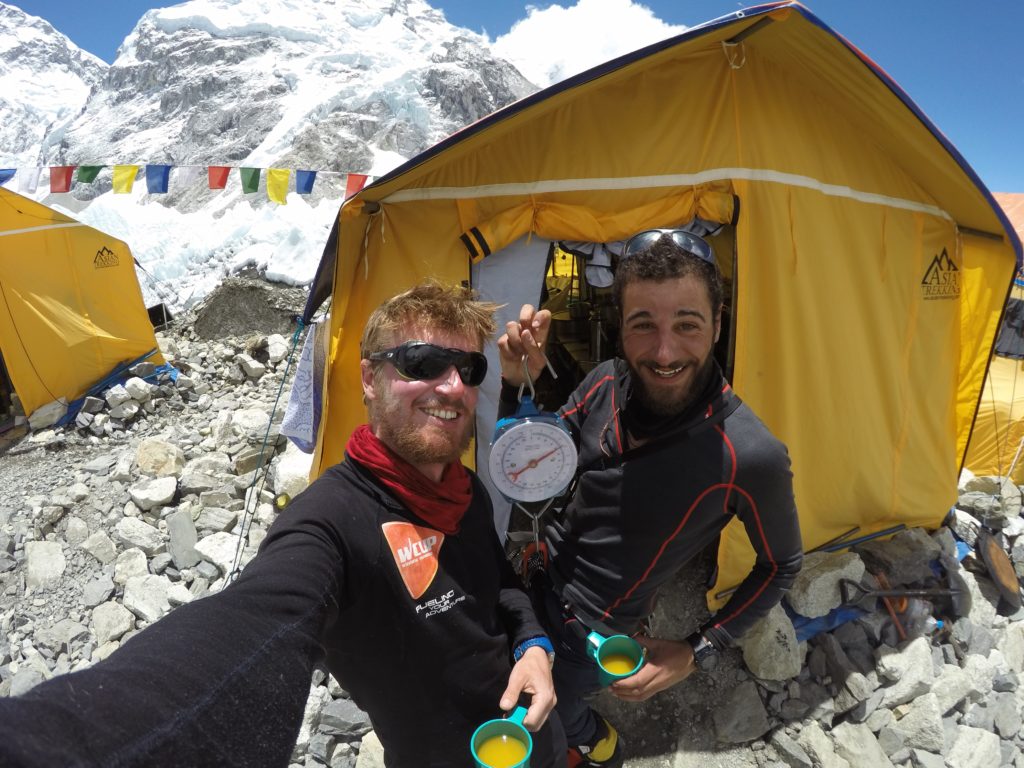 After a day of rest we head back down where I cycle back to Kathmandu and prepare for the next summit, cycling and rowing to Papua to climb Carstensz Pyramid!
Very thankful to my sponsors who support me to get this project done