Asia
From the highest point of Europe I descended down to the hotel in one day. I still needed to cover a daily of 165km to reach the Russian/Kazakh border in time and head to Nepal…
Rushia part 2
Heading down from Terskol where I left my bike, the day after the summit of Mt. Elbrus was a tough one. It started off with a powerful headwind down the valley. Going further North-East through Russia in the direction of Astrakhan wasn't easy. Very soon I left the mountains and the immense steppe was ahead of me. A constant headwind slowed my progress and the cycling became more adventurous and desolate. Beautiful landscapes but rough roads brought me to Astrakhan where I applied for my Kazakh visa. An easy task because the consul was a fan of Belgium and granted me a multiple entry visa without me even asking for it.
Breaking down
While waiting for my visa I prepared for the next push: cycling the biggest dry steppe in the world. Just as I almost entered Kazakhstan I saw that the rim of my back wheel started to tear. I could continue to the next city, Atyrau, but I didn't want to take a risk of having it completely broken in the steppe. I called Sabine, a Belgian friend, and she found some dutch expats in Atyrau. They where cyclist and as lucky as I was one of them was just about to fly back from the Netherlands to Atyrau. They all helped out and in the end I didn't have to wait long for my spare wheel to arrive.
Administration hassle
During the time waiting for my wheel I tried to register as a tourist at the local police station. This is obligatory within 5 days, both in Russia and Kazakhstan. Only, as I found out, these 5 days are calendar days in Kazakhstans and in 5 business days in Russia. I mixed up and was overdue this process when I arrived (they are not open in weekends).
They immediately tell that I have problem and need to call my lawyer. I have no idea what they are talking about and they explain me why. Then I understand but I still need a lawyer. I don't know what to do and explain everything. After a while of these conversations they sign my registration and let me go. I read on different sites this proces can take up to a full day. It took me 2 hours max and I'm happy I was just naive (not even played) and they let me go. When I get back to my Couchsurfing host, she explains me they probably wanted a bribe. I took too much of their time and saw I just didn't understand. By coincidence I found out that this was a good strategy and still use it (now on purpose) in corrupt situations.
Steppe fun
Once I had everything sorted out I leave Atyrau, cross the Ural river and enter a new continent: Asia. Getting out is easy and from there everything gets more remote. From time to time I pass by a village but they are more spread out and I carry up to 20 liters of water with me. People are still very friendly and generous. Many times they share their food with me and even once a car pulls over and hands me 50 euro to help out!
And out come the wolves
The steppe was a very beautiful place, in the mornings and evenings. during the daytime mainly it was boring. I'm following the silk road and from time to time I see some camels or horses but that's it. The sunsets were the most amazing ones I've seen yet and at night I regularly hear the wolves cry at the moon. Many people warn me about wolves but never I had a close encounter and I got more used to their distance present. It even gave me the more feeling of being in a desolate, romantic place at night. Laying in my tent alone, wolves crying and knowing there is nobody nearby. I loved it!
Boredom
Not much was going on in the steppe. The roads are mainly bad and when there is wind, it is for the whole day. With the heavy loaded bicycle I couldn't go fast even when I had tailwinds because of the bad road/gravelish/sand conditions. From time to time I saw abandoned cities, making it the perfect place for some zombie movie. These are remnants of the Sovjet times where people were forced to live and returned to their families from whenever they could.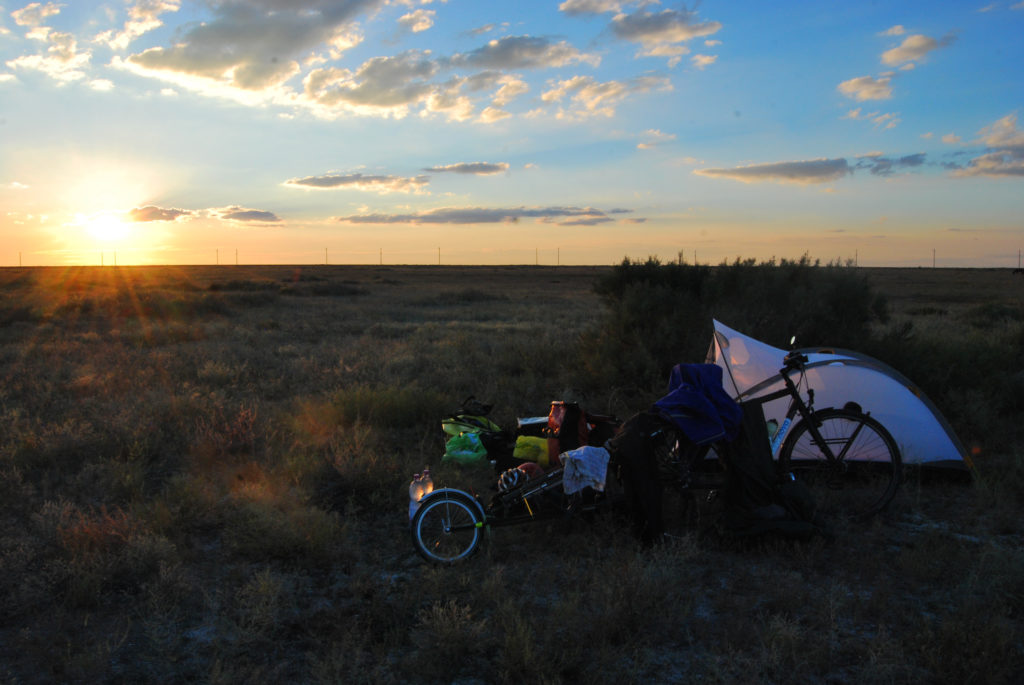 The same goes for Aral. An ecological and economical disaster where irrigation channels depleted the largest part of the huge lake. This city is still inhabited but the socio-economical impact on it is a very sad story. I pass by, just to find food and water and continue. People in this area and other cities warn me not to attract too much attention since I'm an easy target to get robbed.
Cornering excitement
Every day it is the same scenario and for hundreds of km's I continue the road straight ahead. From time to time it is boring and sometimes you're just happy that there is a corner coming up. I pass by the biggest operational space launch facility, Baikonur. This shows the extremely big space they have here, if anything would go wrong it won't effect many people's lives. There the road starts to become better, more asfalt from time to time. The closer I get to Kyrgyzstan the more people I see and I feel the excitement of the mountains coming up. It still takes longer than expected and I'm getting mentally drained.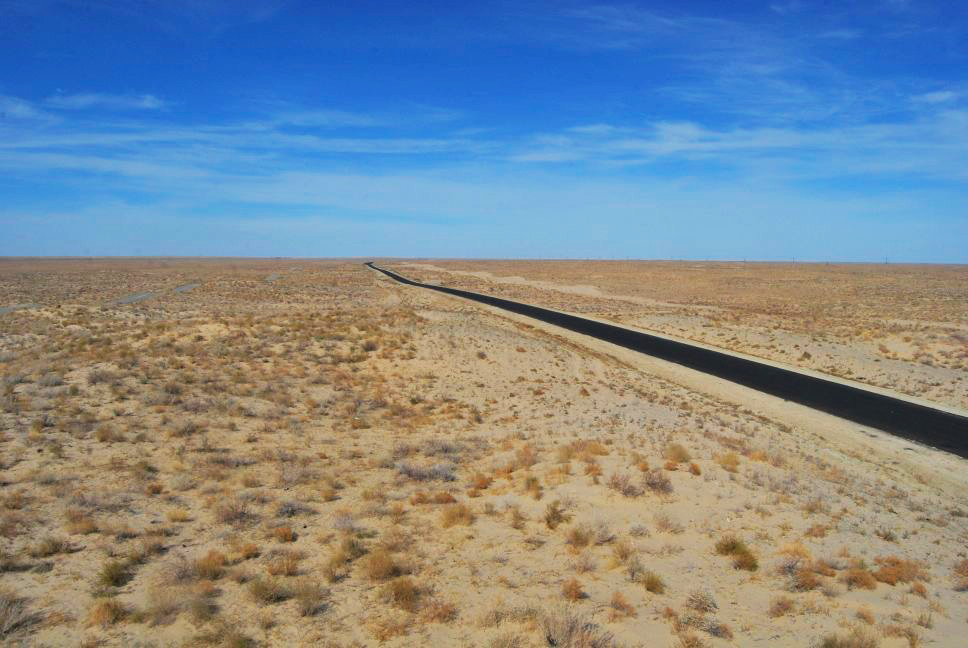 The promised land
Once out of the great steppe desert I see the mountains coming up. This immediately gives me energy, I love the mountains! There's more life and the views are changing by the hour. The first part is in Kazakhstans but very soon I cross a small border into Kyrgyzstan. The first day I already get invited by 3 different people to come over for dinner and sleep in their house. Just loving it. The first 5 days (up to Bishkek, the capital) I don't find an ATM that works for my mastercard/maestro. Only visa cards are accepted in one city I pass by, I was able to change some dollars but I actually didn't need cash. Almost daily I get invited to sleep or eat for lunch so I can "survive" from the stuff still in my bags whenever there's no village.
All the luck
I cross a last mountain pass (Too-Ashu) at 3200m and descent down in the direction of Bishkek. There I stay in a hostel where I can pitch my tent and meet other cyclists and my best friend (Pieter) comes to visit for a week. Some of the cyclists have sent their passport back home to apply for their Chinese visa. It was only possible to do that in the country of residence. Then one day later the system changes and it was allowed to apply in Bishkek again. I was very lucky, and with the help of an agent (was extremely recommended back then) I got my Chinese visa within a few days.
During my time in Bishkek I enjoyed discovering the city and surrounding valleys with Pieter and I prepared for the human powered crossing into China. There are several borders, but most of them don't allow you to cycle and get you on a bus. Then I found out there was one border where it would be possible. The Zharkent border connects Kazakhstan with China and because I had a multiple entry visa into Kazakhstan this plan could work.
Kyrgyzstan was a beautiful country and one of my favourites ones. Mountains everywhere up to 7400m and still quite unspoiled.
Winter's coming
When I started cycling towards Kazakhstan it began to snow. The first sign of colder temperatures and I was worrying about the Tian Shan mountain range that I still needed to cross. I quickly cross the last part of Kazakhstan to enter China! Immediately the atmosphere is different. It is more crowded in cities and there's less interaction with people around. I'm still very excited and just love climbing up the Tian Shan plateau, a beautiful place whit less people around. It is very easy to find camping spots and many times very close to the rivers, perfect to bathe and get water to drink and eat. It's getting colder and higher up the plateau I cross section of snow on the road, luckily not too bad. The rivers where frozen so from time to time I had to chop it open with my ice axe to get some fresh water.
Desert mania
I descended down the plateau heading south. There lies the second biggest sand desert in the world which I still needed to cross. The government has built a road which makes it more easy. The first day I got stuck in a sandstorm with just tens of meters of visibility. A couple of times I got blown off the route and fell with my 100 kg bicycle. Luckily it is all sand so I didn't get hurt. With the steppe desert of Kazakhstan still in my memory I easily get sick of the desert and try to rush out of it. It lasted a lot longer and I'm just using a paper map (no gps, navigation, smartphone,…). This means I relied on the information from the map which wasn't completely up to date. Several times I relied on a village to find food and water but discovering that there was nothing left…
Yet, I finally make it across the desert but only to find out that there where still big distances to cover between resupplies.
Getting high
I took the road Southeast direction Golmud. To be able to get to Nepal completely human powered I had to cross Tibet. Going through Pakistan was not an option since they don't allow a border crossing by bicycle and put you on a bus. I contacted several people who where able to cross Tibet by sneaking past police checkpoints at night and stay low profile. All of them told me it would be impossible after the 2008 olympics and I would be deported. So I found another option where a guide and driver would "follow" me. The plan was that they waited at every checkpoint and left when I passed and did the same at the next one. First in Golmud I extended my Chinese visa quite easily and waited the travel agent to get my permit ready. At 2800m this was already a challenge to get there.
Tibetan plateau suffering
It took about 10 days to get everything ready and then we left, going up. From 2800m the road took me up in 2 days to the first mountain pass at 4700m. A very intense ride, especially with my 100 kg bicycle. It got very cold but that didn't bother me, I had enough mountaineering equipment with me. Tibetan winter is not fun, it is mostly a plateau between 4000m – 5000m and just one long boring straight road. Because of the altitude there is a lack of oxygen making it even harder to cycle.
I got extremely exhausted and even suffered from altitude sickness until arriving in Lhasa at 3600m. A lot more oxygen and a rest day gave me the strength for the final push over the Himalayas.
The last push
From Lhasa I cycled west again, slightly uphill to Shigatse, the "gateway to Everest". I continued the friendship highway with several mountain passes up to 5250m. The first sight of the Himalayas where a very emotional moment, especially my first view of Everest. I had come there completely human powered, to the base of the highest mountain in the world. The plan was to continue to Nepal and after a last mountain pass above 5000m I face a descent to about 800m! The longest way down and it took me 2 days. The sentiment I had there was extraordinary. I was exhausted, lonely and sick of it. This descent brought me after a long and hard winter back to people, warmth, colours and smells!
The border
The border crossing over the "friendship bridge" (Kodari) was pretty easy. Mainly thanks to my friends from Asian Trekking. They have one of their agents near the border to help me. The visa was in Dollars which I didn't have anymore so I was very happy to have him over and help me. Going down further I left for Kathmandu. I just took one last stop at the 'Last resort'. A special treat where I did a bungee jump from a hanging bridge over a river. Then I continued straight to Kathmandu where my friend, Tenzing David Sherpa, his family and the Shangrilahome where waiting and welcoming me!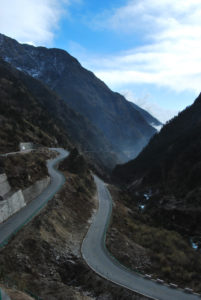 Kathmandu and Everest
In Kathmandu I stayed at Tenzing's family, worked in his physiotherapy cabinet and prepared for the next project: climbing Mount Everest. His brother and CEO of Asian Trekking gave me the opportunity to climb in his team. So after a couple of months in KTM I left by bicycle for a 4 day journey to Phaplu, the nearest road to Everest. The road itself was hard with many up and downhills and no tarmac. Still, it was the perfect preparation for the mountain, both physically and mentally. Once in Phaplu I left my bike and trekked for about 14 days to Everest Base Camp and to climb it. To know more about the Everest climb, click here
Very thankful to my sponsors who help me to get this project done