The waiting begins
April 17, 2017
After leaving the resort where the boat was supposed to arrive the 7th of April I cycled towards Bali to drop off my bike. In a meanwhile the boat arrived in Surabaya and is now waiting to be cleared by customs and delivered to the resort. From there I'm trying to arrange transport to the most eastern part of Java, the city Banyuwangi. By doing this I'm saving again 400km of rowing, instead of just waiting in the resort for the boat. This all seems very nice, waiting in a resort in Indonesia, but the timing and seasons don't allow me to just wait and do nothing here.
Despite that I try to enjoy my time here off course. And how else would I enjoy it than cycling? I decided to make a detour by bike to go and climb Mt Bromo. This is an active volcano at 2329m above sea level. Not very high, but to come from sea level with your 80kg bicycle on the ridiculous steep roads they make here is quite a challenge. The last day I just needed to cover 16km, a light ride some would think. Well I covered 1285 altitude meters, with this bike I was able to get an average of 4km/h…
The effort was clearly worth it when arriving at the crater. I got rewarded with a very impressive view and experience of this beautiful volcano. The next day I take a day off cycling but hike op to watch the crater from close by. The force that you feel there is really impressive.
After this restday I wake up at night to hike up to another viewpoint to see the sunrise to cycle down afterwards. The view is once more fantastic and after this it's an easy 50km ride down, what a great descend! There the cycling continues and after a couple of days I'm in Bali. From here I'm leaving my bicycle to send it back to Belgium with a friend. I started to realise that this is my last bicycle ride in Indonesia and actually on this bike. Everything is falling apart (my derailleur broke, my rim is breaking, brakes don't function,…) but I really loved cycling with it. It is some kind of emotional goodbye, it served me well and we went through a lot of things, cycled so many place.
I'm being hosted here by Peter-James, a great guy who's helping cyclists having a good stay in Bali. He grew up as a street kid after losing his patents at a young age, very strong and brave guy. He has a great webshop selling glasses and jewelery from recycled products and 10 percent of the sales go to PJ foundation for street children. Please check his website www.pj-collections.com .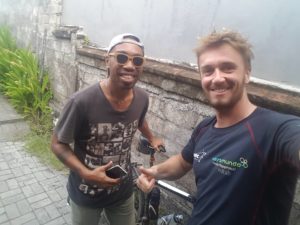 I feel my body is very tired (I covered 1300km in about 10 days) so I could use some rest and good food here before I start on the next stretch of this human powered adventure.