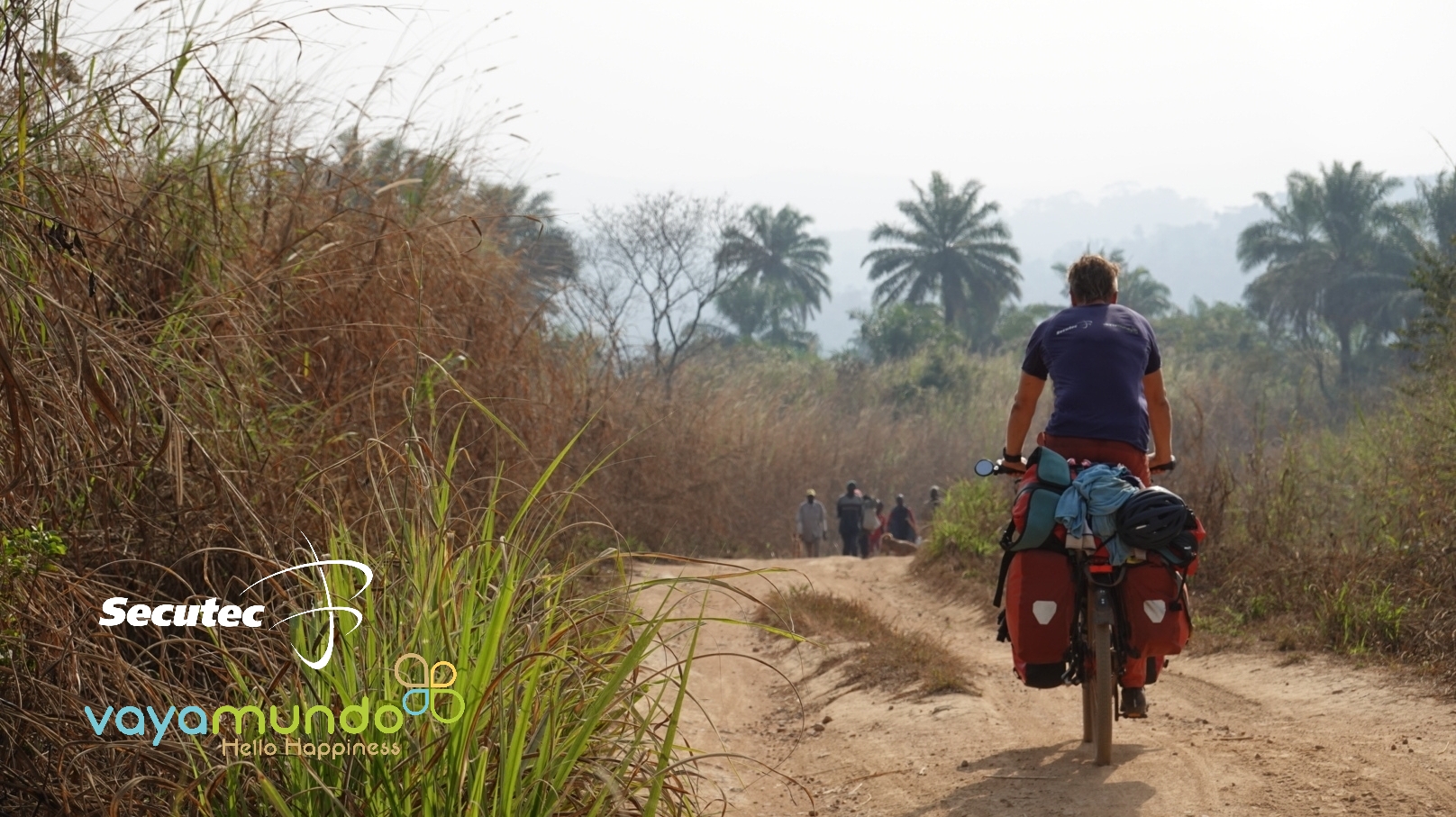 New energy!
January 22, 2020
After the holidays in Dakar I started cycling with new energy. Both mentally and physically I was ready for a challenge to get in time in Nigeria!
Bye bye
I start cycling again in Tambacounda where I left my bike and fast enough I make my way out of Senegal. The stamping out proces is easy, but still quite some distance to the actual border. This means I will have to continue to entry Guinee in the same day. I don't take the big asfalted way but a more quiet sand/dirt road which follows just next to a national park. I see many animals along the road and the cycling is just beautiful here! A bit later I reach Guinee and I immediately get a very welcoming feeling in the country. The first village I pass by I ask if I could pitch the tent there. It is a very basic place, with not much resources, but they insist on sharing their dinner with me and I have a great time here. They tell me they used to hear lions roar sometimes but that disappeared a couple of years ago.
Into the hills
The inland of Guinee has quite some hills and the roads take me to the Fouta Djallon region. This is a beautiful area inland of Guinee where the climate gives somewhat "cooler" and drier temperatures. Everywhere I'm cycling people are very warm and welcoming. After a while my arms hurt more than my legs from waving to all those people. I just love the mountains and this whole section gives me great views. The rest in Dakar gave me good energy as I'm still good to cover the daily distances. After a couple of days the legs start to hurt, but the beauty of everything here (nature, people, wildlife,…) totally makes up for that! I meet some other travellers on the road and this helps in making me not feel too lonely, which is a normal feeling after the great time in Dakar. The regular phone calls from friends and family help as well off course! (thankyou)
Coffee and borders
After about a week of cycling I get near the border with Liberia (I stay in Guinee). There I take a route which is a shortcut in distance, but would take about the same amount of time as the normal one (route de cafe/coffee route). No asfalt here but a dirt road taking me between coffee and cacao plantations. There I meet 2 French girls cycling to Benin. But as I'm trying to get many km's done, we only camp together for the night and then I'm off on my own. Too bad I'm rushing a bit but as I have this goal now but I have to go on and maybe come back one day. I'm still enjoying this to the fullest and cycle on along the Liberian border towards the border with Ivory Coast.
Full speed
The border crossing to Ivory Coast was fairly easy and every time I tell my story to people, they don't believe me. They are extremely surprised that I'm cycling from Belgium around the world. It creates funny reactions and all kinds of questions. I then receive many good lucks and cheers while I'm setting off again . I just love how people are open and warm in these regions and not even once I feel threatened or scared. In Ivory Coast the hills getting smaller and I can get my distances done with less effort. At the same time it's getting warmer, but more facilities along the road. I am even able to buy a cold drink from time to time, what a luxury! For water I mainly use the pumps on the side of the road, mostly installed by NGO's. These are very reliable water sources and always a very social moment for the people around.
Peage
In Ivory Coast I take the road to the Capital city Yamoussoukro. Things get more easy here with better roads, more shops and food. Once I pass by the city there is a big highway (peage) taking me all the way to Abidjan. The road itself feels much safer to cycle, there is more place for the cars and trucks. There aren't too many of them either and by cycling on the emergency lane it actually feels good cycling here! Soon I enter Abidjan and this city is all chaos. One of the reasons I pass by this city is that I want to visit SOS Forêts, a local NGO fighting to save the forests in Ivory coast. From here in Abidjan I'll enter Ghana, get to Togo, Benin and reach Nigeria just in time before my visa expires.
SOS
As in many countries I see the same happening here in Ivory Coast: deforestation. Lot's of forest and wildlife is disappearing and SOS forêts is a local NGO trying to slow down and reverse this. In Abidjan (at the botanical garden of the university) I went to meet the president and other workers in the ngo. This project is already running since 1996. In 1992 Dr. Wadja Agnankou received the Goldman prize for his work to protect the mangroves in West Africa. As a result of this they founded this organisation that is still trying hard to limit the los of the forests here. I had the honour of meeting them and to see how they work. If you would like to know more about their work (I will get more into detail about it in a following post) please visit http://www.sosforets.ci/
If any of you would like to help out in this great organisation, don't hesitate to contact me. In Belgium I'm giving regular presentations for organisations or companies. The money I get with it goes to such initiatives and my next presentation I will definitely try to raise them some funds. There are other ways to help them out! If you have some equipment laying around that is in your way and you would like to donate, contact me (or them straight away). Equipment meaning: tents, binoculars, camping gear, gps, drone,…. Thank you.
I want to give a big thanks to my sponsors who make this project possible!!
and thanks for the great support!