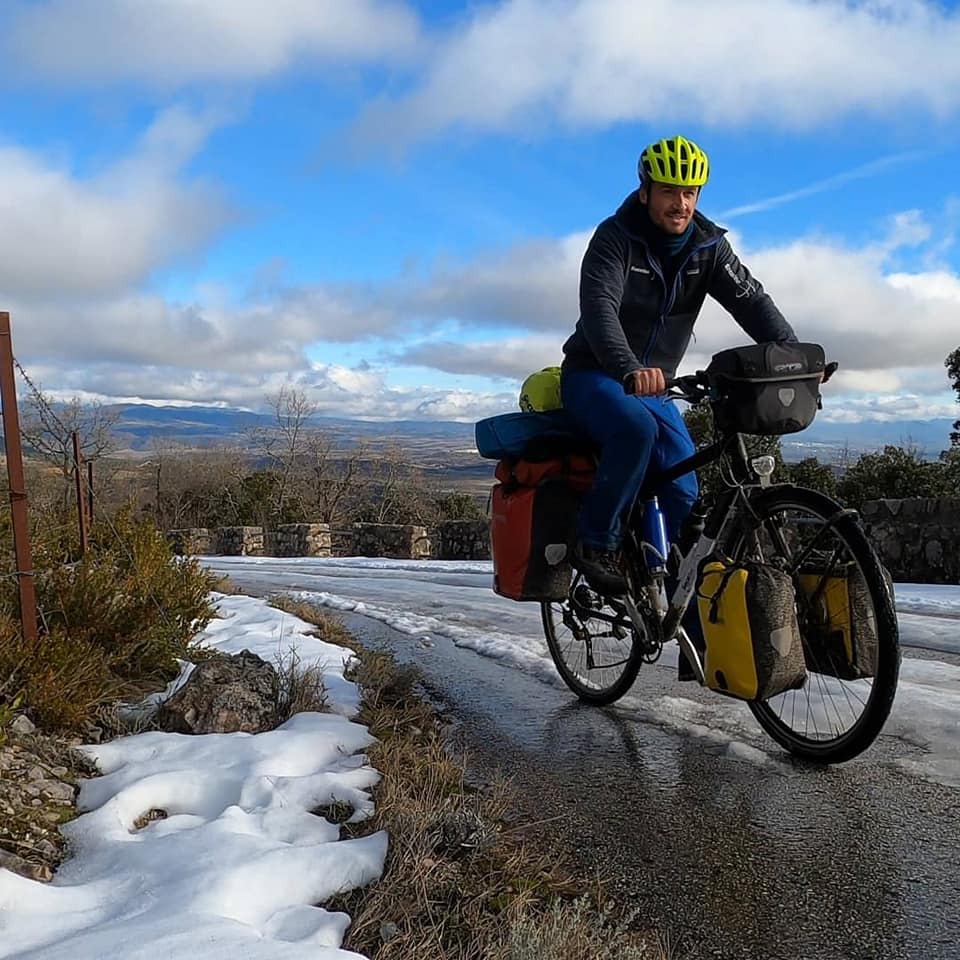 Lockdown fun
March 24, 2021
A good rest in the Pyrenees gave me the energy to continue to Spain with Steven. During the ride Steven decided not to join me to Portugal because he'll get into trouble to get back home for work. The covid situation is not exactly great in Spain and Portugal with some lockdowns coming up…
Spanish winter
Many regions are closed for non essential travel in Spain and it stresses me out. I have supporting documents from the government and sponsors (shoutout to Secutec!) to prove that this is a professional activity. This means that I should be able to continue my trip to Portugal as being a professional adventurer, but it still worries me.
The first couple of days are great. Despite that it's cold I'm enjoying the hills, beautiful views and the sun. I decided to cycle through a national park and be a bit more isolated. Very soon I was caught up in the snow and had to push the bike up the big hill for a couple of hours. I really enjoyed this part, being not surrounded by cars and having the extra adventure of balancing in the snow.
Plateau phase
The second part in Spain was terrible where I got to a plateau with nowhere to hide. The headwinds were very strong and the roads always straight making my progress frustratingly slow. Very exhausting. When I heard the news from my rowing friends that they will have some delays arriving here I decided not to exhaust myself too much and take it easy.
I got sick of this plateau and decided to head to Portugal, where I was hoping for less wind and more protection from trees.
Portuguese spring
Entering Portugal was easy, despite the fact a lockdown was in place. Cycling was still allowed so I knew there wouldn't be problems for me to cross the country. As usual I avoid being inside with people and sleep in my tent or a private room. The great thing about the lockdown is that there aren't too many cars. Overall I had a very enjoyable ride in Portugal. I get lots of help from people to spend the night safely and I'm enjoying the views! I got to spend a night at Joao and his family. A very nice experience to meet them! They have been travelling by bicycle around the world as a family and I'm just loving their stories.
By the end of January I arrive in Portimao where we will depart by rowboat to Miami. In Ferragudo Miguel Titeca, a Belgian who heard about our plans, invites us to stay in his hotel (one2seven), thank you very much for that great stay!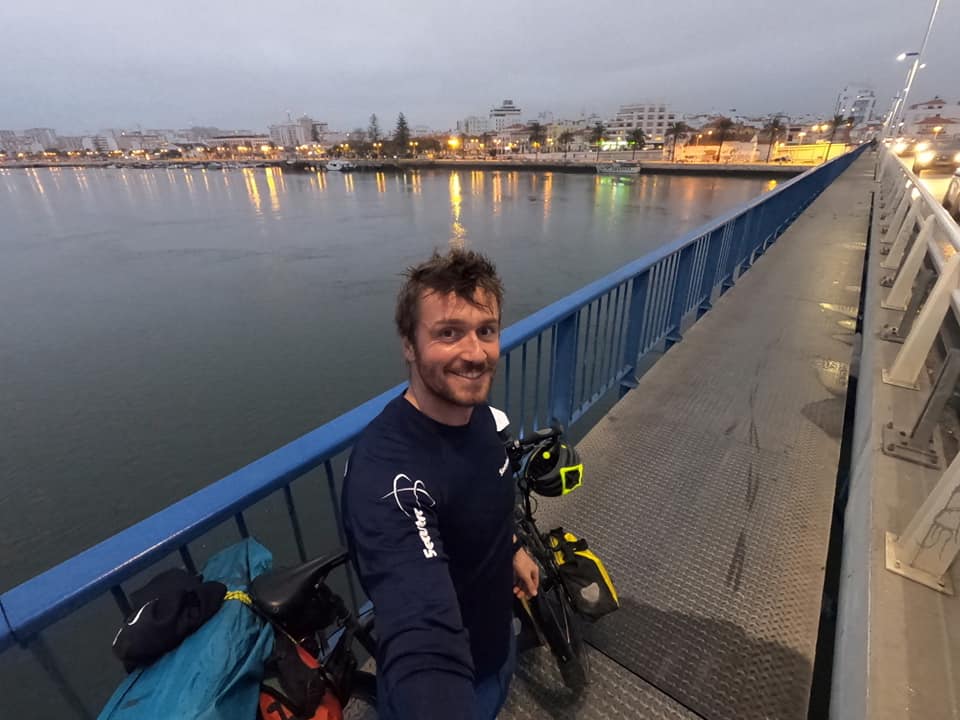 Getting stuffed
When Koen and Gus arrive with the van and the boat we start preparing our crossing. It's not an easy task and takes days. First we get the boat in the water, then we start to unload the van. We have food for 100 days (each person) divided in 24 hrs ration packs. One pack contains 4500 – 5000 kcal. It is a lot of food and not an easy task to fill the boat. It took a couple of days to find the right balance. Besides that we try to eat as much as possible to get some extra weight. The weather to depart is not that great in the first 2 weeks which gives us the opportunity to test the boat and eat lots of pizza and getting stuffed. Once the right weather window pops up it's all hens on deck to go, very excited to start this rowing phase!!!
Many thanks to the sponsors who make this project possible!